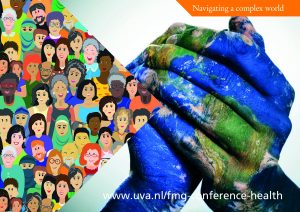 Parallel sessions, afternoon
14.45-16.00
Understanding and Optimising Health Interventions
If we want to optimize intervention strategies to enhance human health, we need to understand how they work. This panel brings together researchers committed to understanding and optimizing health interventions, from four different departments (3 FMG; 1 Amsterdam UMC). They will integrate their theoretical and methodological expertise on health interventions to enhance our shared knowledge, and to explore and encourage future within- and between-faculty collaborations.  
Hilde Huizenga (Psychology)
Julia van Weert / Annemiek Linn (Communication Sciences)
Kim Oostrom / Linde Scholten (Pediatric Psychology; Amsterdam UMC)
Irene van de Vijver (Psychology)
Patty Leijten (Child Development)
Urban dynamics and health
The urban environment comes with specific impacts on people's health: green spaces under pressure, (un) healthy food choices around every corner, recreational drug use. How do we deal with these? What role can policies play?
Socio-spatial analysis of health in cities, by Els Veldhuizen, Urban Planning
(Urban) environments, eating habits and health, by Sanne de Wit, Psychology
'Hassle-free' highs in the city, by Mishra Swasti, Medical Anthropology
Discussion panel 'Food, Health, and Sustainability'
16.15-17.15
Recent international reports like the EAT–Lancet Commission on healthy diets from sustainable food systems but also the Global Environment Outlook Report 'Healthy planet, healthy people',  reconfirm the negative impacts of human consumption on both the planet and on human health. Both reports call for drastic changes in current and future consumption patterns and state that when we make healthy food choices – like less meat and dairy, more vegetables, sustainable food systems – this will not only benefit our own personal health but also our planet. There is a risk that such dietary and behavioural advice by scientific experts encounter public backlash. So, how can we motivate people to make other choices? How can we make sure that worldwide people will have equal access to sustainable food systems? What role can policies play?
Participants panel
Ron Dahl
Ron Dahl is director of the Institute of Human Development at the University of California, Berkeley, Professor in the School of Public Health and the Joint Medical Program and Chief Science Officer at the Center for the Developing Adolescent.
Profile page Ron Dahl
Joyeeta Gupta
Joyeeta Gupta is full professor of environment and development in the global south at the Amsterdam Institute for Social Science Research of the University of Amsterdam and IHE Institute for Water Education in Delft. She is presently co-chair of UN Environment's Global Environmental Outlook-6 (2016-2019) which will be presented to 195 governments participating in the United Nations Environment Assembly in 2019.
Profile page Joyeeta Gupta
Jaap Seidell
Jaap Seidell is Professor of nutrition and health ('voeding en gezondheid') and director of the Health Sciences Department at VU Amsterdam. He is also director of Sarphati Amsterdam ('Research for Healthy Living').
Profile page Jaap Seidell
Sanne de Wit
Sanne de Wit is Associate Professor at the Department of Clinical Psychology at the University of Amsterdam. Her area of research and expertise concerns psychological and neural mechanisms underlying habitual behavior, associative learning and behavioral modification (see www.habitlab.nl).
Profile page Sanne de Wit 
Jonathan Zeitlin
Jonathan Zeitlin will chair this discussion panel. He is Professor of Public Policy and Governance, and Distinguished Faculty Professor in the Department of Political Science and the Faculty of Social and Behavioral Sciences (FMG) at the University of Amsterdam. He is also Scientific Director of the Amsterdam Centre for European Studies (ACES).
Profile page Jonathan Zeitlin
Location
The panel takes place at the plenary venue of the conference, REC C 1.03. The  second panel is followed by a reception at De Brug.
Conference website and registration